Source: Webster PR
————————–
NASHVILLE, Tenn. (November 26, 2013) – 
Nu-Blu
 was founded ten years ago by husband and wife team, 
Carolyn
 and 
Daniel Routh, 
who are joined by long time band members 
Levi Austin
 and 
Austin Koerner
 to comprise one of today's most popular bluegrass groups.  Through the years, and after numerous charted bluegrass and gospel titles, 
Nu-Blu
 has developed a solid fan base utilizing the strong lead vocal talents of Carolyn, Daniel and Levi along with their diverse selection of material including original songs, traditional favorites and songs from other genres of music.
Now with five albums to their credit, 
Nu-Blu
 has developed a unique sound which combines their love for bluegrass music and respect for its traditional roots, along with an edgy feel that gives their music a fresh energy and spirit.  The recent release of their latest digital album 
TEN
, has garnered rave reviews
"TEN is a wonderful blend of The Tradition with their own Contemporary spin. Strong songwriting, tight vocal harmonies and fantastic instrumental work from Carolyn and Daniel Routh, Levi Austin and Austin Koerner show why North Carolina IS Bluegrass Country and produces some of today's best musicians and bands. – Dennis Jones, WNCW
"TEN – is one of their best projects to date! … The CD has many memorable songs and is full of strong performances. They just keep getting right!! – Jerry Salley, award-winning singer/songwriter
Appropriately titled, TEN contains ten new songs performed in their unique and distinctive style with award-winning special guest musicians Ron Stewart and Jim Van Cleve.  The up-tempo "That Road", written by Honi Deaton, kicks of the album and is the first single from TEN.
"TEN celebrates our 10th anniversary with new songs that we feel pass through the full range of emotions. We explore life on the road, family devotion, tragic loss, the joys of love, patriotism, and no regrets. We've even included a brand new original instrumental that will leave you breathless. This is our best album to date and we can't wait to share it with our fans," says, Carolyn Routh.
TRACK LISTING
1.    That Road
2.    Without A Kiss
3.    Caught In The Middle
4.    Eddie's Garage
5.    Train's I Didn't Take
6.    The Seed
7.    It's A Good Day To Be With You
8.    All Americans
9.    Giant Squid
10.  Shadows Of The Night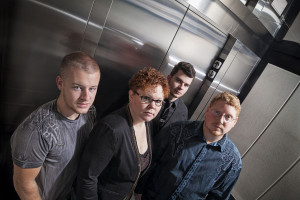 Nu-Blu are now on tour, for more information on the album and tour dates, please visit:
Nu-Blu.com
Facebook
Twitter
Instagram: @nublubluegrassartists