Painted on Sunday, February 23, 2014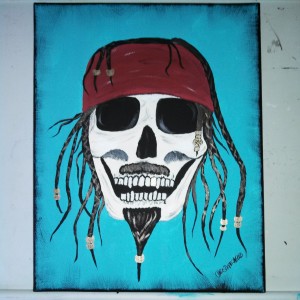 I was asked to create an original piece of art for a friend of mine. He has a tattoo shop in New Jersey and a Tattoo RV that travels the country for select appointments as well.
My friend is Tattoo Tony of Under My Skin Tattoo, a great artist himself and a long time member of the BMB Family.
As I learn to draw better, I like to challenge myself to do things I want to do but don't feel as if I am able to. I gain confidence in proving myself wrong. I also gain confidence when other artists out in cyberspace like my photos. I still have a lot to learn, but I like to learn as I go and have more fun doing it that way.
It took a while for me to think of something to do for Tony that would be original and one of a kind for him. He's a tattoo artist by trade, so I figured a skull would be a good challenge for me to try. I had drawn a decorated skull a week or so prior to starting this drawing for Tony. I wouldn't call it a Sugar Skull, but it was in that vein.
For Tony's skull I wanted to use some of the elements of the decorated skull, along with some tribal type stuff. I also wanted to incorporate some of the artwork that Tony has on himself. The skull in and of itself was the hardest part for me. In past artwork I have either traced a skull or used stock clipart. So getting the detail right for me took a little time.
Once I was happy with the shape of the skull, I fussed with it to get it more symmetrical, something I am not good at. I have a little OCD, so drawing is hard when I want it to be symmetrical. The final result, with the decorations is so not symmetrical, but it is close enough and I like the way it turned out.
I incorporated pieces of Tony's facial tattoos into the drawing on either side of the skull. The background of the drawing was based on the spider web that Tony has on his hand. It turned out to be a great background fill.
When I started the drawing, I created a one-inch border around the page so that I had a little wiggle room around the skull. I ended up coloring that it after I had finished the entire drawing.
One of my favorite things to draw is lettering. I remember drawing band logos all over my brown paper bag book covers in high school. These days I still love drawing band logos and creating hand drawn fonts to go along with them. There are two areas with hand drawn lettering – the U.M.S.F.L. and the word Tattoo. The lettering for the U.M.S.F.L. is the lettering from one of Tony's shirts, it stands for Under My Skin For Life, and it is his charity organization. (http://www.undermyskinforlife.org/)  The word tattoo is just how I drew it, not based on anything other than a lettering that fit the limited space, yet was a little funky.
Here is the gallery of progress as I posted on my Instagram as I worked on this drawing.  I started this drawing in pencil on October 5th and finished it in ink on October 7th – probably the fastest start to finish of one of my drawings to date.
I am very happy with how this turned out and I look forward to drawing more skulls and the like.
Although they may never see this, I want to thank all the people on Instagram, Twitter, Tumblr and Facebook who liked the photos, or commented on the photos, as I posted the various stages. There are some amazing artists out there who liked my drawings and that inspires me to continue to get better. I follow a lot of artists on Instagram who inspire me everyday, even if it's just by posting their work for me to learn from.
Also, thanks to Tony for requesting an original – that meant a lot and inspired me to try something different from what I had been doing. 🙂