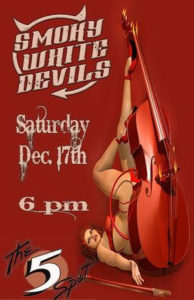 Smoky White Devils Set Nashville's Rock Scene On Fire
The adrenaline rush of witnessing the birth of a world-class rock band is a rare thing, but the emergence of Nashville's Smoky White Devils has provided exactly that high-velocity thrill in the last months of 2016. This band of incendiary players has been superheating Music City clubs with high-energy performances that blend the cutting edge of songwriting and rocking sonics with a backbone rooted in the classic sounds, styles and inspirations of some of the most intense musicians of the classic rock era: Cream, Jimi Hendrix, Led Zeppelin… The result is a musical bridge between the past and present, leading to rock 'n' roll's future.
The quintet of veteran players is fronted by Richie Owens on vocals and slide and rhythms guitars, and harmonica. Owens has toured with Dolly Parton and produced albums for Parton, the Georgia Satellites and the Kentucky Headhunters. Nick Kane, from the platinum years of the Mavericks, plays lead guitar. The aptly named Peter Keys, who also holds the piano bench in Lynyrd Skynyrd, plays keyboards. And drummer Jeff "Shakey" Fowlkes, who hails from session drummer on Kid Rock's albums, and bassist John Reed, of longtime Nashville punk rebels Raging Fire, are the granite-tough rhythm section. Together they have forged an unforgettable style.
Now, as Smoky White Devils, they are poised to raise hell. Feel the burn December 17th at East Nashville's The 5 Spot.
Facebook event link – https://www.facebook.com/events/670128136495312