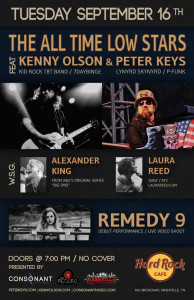 Nashville, TN. August 13th, 2014 – Consonant Music, a Nashville-based entertainment company, is pleased to announce The All Time Low Stars feat. Kenny Olson (Kid Rock's Twisted Brown Trucker Band) and Peter Keys (Lynyrd Skynyrd, P-Funk) live at Hard Rock Cafe in downtown Nashville on Tuesday, September 16th, 2014 at 7:00 PM CST. The performance will include special guest appearances by Alexander King (A&E's original series "Big Smo") and Laura Reed (Sony / ATV). Remedy 9 will set the fantastic evening of rock, funk and soul in motion with a debut live performance and video shoot.
Consonant Music, founded by music and technology veteran Dustin Templeton in 2013, is proud to present this group of talented musicians.
"I'm incredibly proud to work with all of the people involved in putting this show on. The artists are top-notch, and so are our co-sponsors. It's a pleasure to work with professionals who share the similar goal of keeping integrity and soul into live music. This show might just bend some people's minds," Templeton said.
The evening's headlining act will be The All-Time Low Stars featuring Kenny Olson and Peter Keys. The Low Stars are a vibrant blues-rock band that brings funk and soul to the stage along with gritty rock 'n' roll sounds that both Olson and Keys create.  Kenny Olson, a founding member of Kid Rock's Twisted Brown Trucker Band, now lives in Nashville and has collaborated with Keys to form the band full of phenomenal musicians. The All Time Low Stars includes J. Kott on bass, Michelle Lambert on fiddle and Timothy Haney on the drums. The collective band brings a mixture of talent together and combines it into an exciting blues-rock experience. When asked about The All Time Low Stars Keys replied,
"We are a group of seasoned musicians capable of entertaining even the most jaded fans. We collectively have played for millions, traveled around the world, and kicked its ass on every continent. We live for this sh*t!"
Special guest performers include Alexander King and Laura Reed. King co-stars in A&E's original series "Big Smo" as singer/hype man touring in Smo's band as well as a featured writer and artist on his Kuntry Livin' album. King brings an interesting twist to the show with his unique style of "Southern Rock Hip-Hop."
King recently released his debut single "Southern Fried" that features Olson and Reed and contains an appearance by Keys. King plans to release his debut EP American Gypsy later this year.
"It's incredible to have so many talented people get down with you organically. These folks are some of my favorite artists in music, and it's an honor to rock with them," King stated about the show.
The opening act Remedy 9 features Kayla Dillon, who is in the process of moving to Nashville from New Jersey to bring her music to life.
"I am honored for the opportunity to open for such incredible talent; and beyond excited to rock out, and debut Remedy 9 with music that is so dear to me," Dillon said.
Consonant Music is collaborating with Hard Rock Cafe (http://www.hardrock.com/cafes/nashville/), Nashville Sign and Graphics (http://nashvillesignandgraphics.com), the area's #1 promotional material provider, and The Record Shop (http://therecordshopnashville.com), a full-service recording studio and production company, to promote the show and capture the experience on video. This free concert will showcase some of Music City's finest talent, and all-ages are welcome.
Hard Rock Cafe, located at 100 Broadway, Nashville TN, 37204 can be reached by phone at (615) 742-9900.
Facebook Event Page: https://www.facebook.com/events/689720941108638/
Consonant Music Website Link: http://consonantmusic.com/all-time-low-stars-live-hard-rock-cafe/
Kenny Olson: http://www.kennyolson.com
Peter Keys: http://www.peterkeys.com
The All Time Low Stars: https://www.facebook.com/AllTimeLowStars
Alexander King: http://www.aetv.com/big-smo/cast/alexander-king
Laura Reed: http://laurareed.com/
Remedy 9: http://remedy9.com/
Consonant Music: http://www.consonantmusic.com
Hard Rock Cafe Nashville: http://www.hardrock.com/cafes/nashville/