Tag Archives: Mark Matejka
Photos from the Hard Rock Live show – Lynyrd Skynyrd – 09-07-2013
Click here to view the gallery —> HARD ROCK LIVE BILOXI
On their Facebook they asked:  "It's been 40 years since Skynyrd's debut album We want to see how long you've been a Skynyrd fan, post a picture on the page with a story about your love for the band and we might feature yours in our #40YearsOfSkynyrd series."
Last night, after a few days of thinking about how I could say what I wanted to say, I posted a short version of why I love Lynyrd Skynyrd. I'm long-winded at times, so even my short version is long.
I figured that it was no better time than to elaborate and make Lynyrd Skynyrd my artist of the week this week for CreativelyMusical.com. I started this feature to highlight my vast music collection, learn more about artists I like and maybe discover new artists along the way. Some are short and quick. Others, like this one, will be long and detailed.
When there is an artist I really dig, I can go on for hours and maybe even days about the things I like or love about them. With Lynyrd Skynyrd it could be weeks or months.
Believe it or not, even after of loving this band the way I have for the last three years, I still have albums and songs I haven't heard yet. I've read a few books, I've read the articles in magazines and online, I've watched and listened to interviews, and I've seen them live several times. I still have lots and lots to learn about this band, its legacy and its music.
Unless you've never heard of or about Lynyrd Skynyrd, you have no idea how many members have come and gone in this band. Founding members Ronnie Van Zant and Allen Collins have both passed on and the third founding member Gary Rossington is the only remaining member from the Lynyrd Skynyrd that most people remember from the 1970s.
Current members include Rickey Medlocke, who played drums for the band in the very early 70s, is in the band as one of the guitar players. Johnny Van Zant has replaced his older brother Ronnie as the lead vocalist and Peter Keys has replaced Billy Powell who passed away in 2009. Mark "Sparky" Matejka replaced Hughie Thomasson who passed away in 2007. The current drummer is Mark Cartellone and the current bass player is Johnny Colt.
In October of 1977, the private plane carrying the band members crashed en route to a show. Ronnie Van Zant, guitarist Steve Gaines, backup vocalist Cassie Gaines died in the crash. For some, that was the end of Lynyrd Skynyrd. Surviving members took time off, did their own thing for a while and just took time to recover.
In 1987, surviving members of Lynyrd Skynyrd, plus an additional musicians came together for a tribute tour celebrating the legacy, the lost members, and the music of one of America's most iconic groups. That tribute tour was the catalyst for the reformation of Lynyrd Skynyrd.
The list of musicians that have been a part of Lynyrd Skynyrd since 1987 is long and something I haven't even had the chance to research fully. The line-ups since 1997 are the ones I am most familiar with through video tapes and DVDs. Although I never got to see the 1970s Skynyrd in concert, or even the 1997 Skynyrd, the 2009 Skynyrd, I've enjoyed watching those concerts on the Internet or DVD or even VHS. I have seen the 2010 – 2013 line-ups and I love these guys.
Every line-up has had their own chemistry and they have all given every ounce of their being to each and every performance. While, I'd give anything to have witness the 1970s line-up or even the line-up with Hughie Thomasson live and in person, this 2013 line-up is by far my favorite.
It's the one I've seen the most live and in person, so I guess that's the fairest assessment to make. There is no denying Ronnie's a musical genius and that he has no equal in music, but experiencing his legacy through video and other people's words is all I have to go by. He was a tremendous writer and lyricist. To listen to Rickey explain how Ronnie worked is thrilling, and to hear those who've worked with him talk about him – I do feel I know him fairly well. But I never got to experience it personally. If I could go back it time, it is definitely something I would do, if only just to see the music and the bands, like Skynyrd and Ronnie, that shaped the music that I listened to as I grew up.
The year I really dived into all things Lynyrd Skynyrd was 2010. Very late to the party, I know. I wished I had joined a little earlier….well a lot earlier. The only problem with that is I was born in 1971, in Pennsylvania. That's a long way from Jacksonville, Florida. My Mom loved music, we almost always listened to the radio in the car. My Mom, though, was into singers, not bands. She was a big Elvis Presley fan, but she listened to a variety of artists. At some point in my life, I've listened to every one of her records and the 8-tracks she had. Standards, country – a variety of music — just not rock music.
I have always listened to and loved music. I played an instrument in school. In the early 80s, I listened to pop, rock, disco, country – everything. Radio stations were different back then. They weren't so focus on a single genre or the same 40 artists. So to say I never heard Skynyrd growing up is probably not true. I'm sure somewhere, I heard it on a radio, a television show or something. From my recollection, I first remember Skynyrd music leaving an impression on me in the early to mid  90s. At that point, I was listening to country music almost exclusively. I spent the 80s listening to mainly rock, hard rock and what they called hair metal. After high school and during college is when things shifted to country music.
Skynyrd's Frynds was released in 1994. My favorite country artists at the time performed Skynyrd classics. Fast forward to later in the 90s / early 2000s and Chris Cagle covered "Don't Ask Me No Questions" for the Blue Collar Comedy Tour. Then Montgomery Gentry did a CMT Crossroads with Lynyrd Skynyrd. I had my opportunities to join the Skynyrd Nation during those years, but with a move to California and later a move to Tennessee, finances and free time were tight.
Fast forward to 2010, my boss toured with Lynyrd Skynyrd and 38 Special that summer. He was the opening act. Opening for his musical heroes and friends. As I do every year, I like to get to know the bands he's touring with. Most of the time, I know the band, but this was one of those tours where I wanted to see what I was going to see when I went out to a show. I bought a DVD and my life as a music fan changed.
I fell in love with Lynyrd Skynyrd. The line-up on the first DVD I saw – Rickey Medlocke, Mark Matejka, Gary Rossington, Billy Powell, Johnny Van Zant, Ean Evans, Carol Chase, Dale Krantz Rossington, and Michael Cartellone. It was the Live From Freedom Hall CD/DVD. It was so much fun to watch them interact with each other and the audience on that DVD. It's hard not to notice Rickey Medlocke on stage, and if I had to pick one favorite member from the line-ups I've seen in person he's it. As a whole, these guys have fun on stage. They interact with each other and all the while play and sing some amazing music.
The next DVD, my favorite of all the DVDs, is the Vicious Cycle tour. That's the line-up before the one listed above, which includes Hughie Thomasson. That's the first line-up I want to go back and see – Rickey, Hughie and Gary had an amazing chemistry together. More than anything else, the way and artist or band performs live is what will win a fan over. There is no other band or artist, for me, that best exemplifies that than Lynyrd Skynyrd. Now, my boss will win you over – I've seen it happen and I've read the stories about him doing it. He won me over enough that I eventually started working for him. Then came Lynyrd Skynyrd and I've lost my musical heart again.
There has to be more than a pretty face or a catchy song to win me over like Skynyrd did. There has to be a passion, a catalog of songs that I can listen to endlessly and never tire of, and there has to be that magic. That last bit, the magic, is the part you can't explain. It's the human element of the band. It's the part you can't create if it's not there. It's what fuels the passion and lastly, the music.
Lynyrd Skynyrd is the band that best exemplifies why I love music. It's not about one genre, how good you look on the cover of a magazine or how many records you can sell – to paraphrase Blackberry Smoke's Charlie Starr. It's all about the music and the passion to make that music.
I did say I was long-winded, right? Well more than 1500 words into this and I haven't yet touched on the music. I really don't know where to start with the music. From the early Muscle Shoals recordings to the most recent album, Last of A Dyin' Breed, I have more favorites than I could ever list. My playlist has probably over 300 Lynyrd Skynyrd songs and up to six different versions of several songs – live, demo, 1976, 1997, etc. There are probably a bunch of songs missing from that playlist, but most streaming services limit how many songs you can have and since I've also included Blackfoot and Blackberry Smoke and a couple of other artists in my playlist, my limit has been reached.
What are my favorite songs on my playlist? The shortlist is Sweet Home Alabama, Free Bird, All I Can Do Is Write About It, Four Walls of Raiford, Skynyrd Nation, That's How I LIke It, Pick 'em Up, Floyd, Ready To Fly, Simple Man, You Got That Right, Needle and the Spoon, and well, I could go on for days.
As for recommending where a new Lynyrd Skynyrd fan should start, I would say the box set that come out in 1991 and the Muscle Shoals album are two good places to hear an amazing mix of everything that is Lynyrd Skynyrd. If you want a feel for what you would here live right now, The Vicious Cycle Live DVD or the Live from Freedom Hall is a good place to start. These days, you can go on YouTube and watch full concerts from overseas, too.
From there you should listen to both the classic Skynyrd records and the last two records that have been released. It will give you a good mix of everything that encompasses Lynyrd Skynyrd. The last three records are among my favorites – Vicious Cycle (2003), God & Guns (2009) and Last of A Dyin' Breed (2012). Of the classic line-ups I love the compilation sets of the Muscle Shoals recordings and the 1991 box set. (Links are to Rhapsody.)
Here are some YouTube videos –
The best way, in my humble opinion, to enjoy Lynyrd Skynyrd is live. No matter what line-up you have seen live, they put on a killer show. They love what they do, put 500% into every show every night. They have more energy than any other band I've ever seen live and you can't help but fell that energy.
There is a Lynyrd Skynyrd song for every mood, every day, every occasion and for everyone. The songs are about real life, the human experience. You can relate to the songs, you can dance to the songs, you can laugh, you can cry and everything in between.
Here are my photos from the last concert I attended this past July, along with a future artist of the week, Bad Company. http://www.creativelymusical.com/TheXLTour
Here's my latest drawing in tribute to Lynyrd Skynyrd: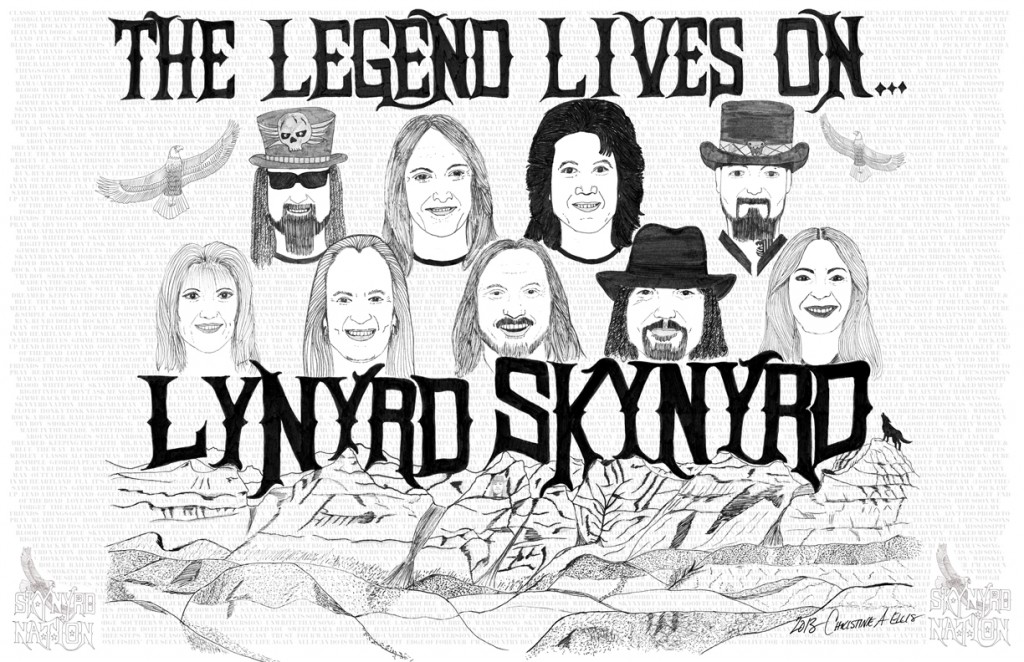 JASON ALDEAN AND LEE GREENWOOD SURPRISE GUESTS AT CHARLIE DANIELS' 
SCHOLARSHIP FOR HEROES
 CONCERT AT LIPSCOMB UNIVERSITY
IOSTUDIO EVENT FEATURED CHARLIE DANIELS, RETURNING PERFORMERS CHRIS YOUNG AND THE GRASCALS, AS WELL AS KENI THOMAS AND BLEACH TO SUPPORT LIPSCOMB'S YELLOW RIBBON PROGRAM
Nashville, TN (March 6, 2013) – The legendary Charlie Daniels was surprised while hosting a special free concert last night to support Lipscomb University's Yellow Ribbon Enhancement Program as part of the Charlie Daniels' Scholarship for Heroes event.  Fellow patriots and country stars, the multi-platinum, multi-award winning chart-topper Jason Aldean and the GRAMMY® award-winning Lee Greenwood walked unannounced onto the stage to offer their support for our military.  The concert also featured return performances by Chris Young and The Grascals, as well as Keni Thomas, Bleach and Lynyrd Skynyrd guitarist Sparky Matejka, and included a presentation with Mary Byers, President of Gold Star Mothers, Inc., an organization of mothers who have lost sons or daughters while in service of their country.
"The motto for the USO is 'until they all come home.' Last night's event at Lipscomb addressed the fact that many did not come home," explained Greenwood.  "I'm proud to have been a part of this event and congratulate my friend Charlie Daniels for being a leader in our Nashville community."
Daniels, a staunch supporter of the military, was pleased with the event and the support by the community.  Corporate sponsors and donors included iostudio, Humana, Waltrip Brothers' Charity Championship, Cracker Barrel Old Country Store, Twice Daily, Bridgestone, Chase, Operation Homefront, Clear Channel, Dollywood, Shofner Vision Center, Trauger & Tuke, Glover Group Entertainment, SunTrust and DSI.
"We have so many heroes whose needs fly below our radar," said Daniels. "This shouldn't be happening and this event is helping to make sure it doesn't."
For more information on Lipscomb University's Yellow Ribbon Enhancement Program, call 615-966-5176 or visit lipscomb.edu/campuslife/veterans.
ABOUT THE FEDERAL YELLOW RIBBON PROGRAM:
In 2009, the Post-9/11 GI Bill was established as an education benefit program for individuals who served on active duty after Sept. 11, 2001. It is administered by the United States Department of Veterans Affairs (VA). Based on a veteran's length of service, he or she may be eligible to receive the cost of tuition and fees, not to exceed the most expensive in-state institution of higher education.
ABOUT LIPSCOMB UNIVERSITY'S YELLOW RIBBON ENHANCEMENT PROGRAM:
For veterans who qualify for 100 percent of the Post-9/11 GI Bill benefits, Lipscomb University has committed to allocate the necessary funds to allow them to earn a tuition-free undergraduate degree through the Yellow Ribbon Enhancement Program. The university also offers qualifying student veterans a variety of graduate degrees tuition-free or at a greatly reduced tuition rate. Lipscomb University officials believe strongly in helping open doors for student veterans through the Yellow Ribbon Program. Since its inception in fall 2009, Lipscomb's Yellow Ribbon Program has grown from 20 original participants to more than 150 veterans enrolled this spring. Students have performed well academically with 71 percent of currently enrolled student veterans maintaining a minimum 3.0 GPA, with 13 percent of those maintaining a perfect 4.0 GPA.  "Our veterans know that freedom isn't free, but we think their education should be. At Lipscomb we have a very unique opportunity to help open doors for our veterans through higher education," said Jim Humphrey, Assistant Dean of Campus Life and Director of Veterans Services at Lipscomb.
For more information about Lipscomb University's Yellow Ribbon Enhancement Program, call 615-966-5176 or visit veterans.lipscomb.edu.
###