Not so much as a review as a commentary on one little interview piece with Charlie Starr towards the end.  I have watched the DVD a few times now and my review would simply be…it's awesome and everyone should go buy it.
Instead, I want to kind of answer something something that Charlie said. Much like the last DVD, he made a statement that both sums up why I love music and musicians such as him and Blackberry Smoke.
"We're not gonna change what it is we do. Because if we water it down, it's not as good. So we've gotta… we've gotta do what we do to the best of our ability and hopefully…even if there are people out there who don't… who it's not their…if it's not their cup of tea per se, they still may be taken with the fact that we do it well.

One thing about it, you know, the tour, the tour bus is there in the parking lot and we're there and people come around and…and I hope they always will. We always got time for an autograph and a picture and to talk to people.

I wanna know, you know, what they love about our music and what keeps them coming back."
Well, Charlie, it's everything about you guys and your music that keeps me coming back. The fact that you are who you are and don't want to change what that is for anything. You all play your hearts out at every show, the musicianship is wonderful and the personalities just mesh so well.
About the music, I may have been a little late in joining the party, but the minute I heard your music it sounded like I had listened to it my whole life. It felt familiar, comfortable and there isn't a bad song in the bunch. Acoustic, electric – it all sounds so good. It's personal, it's fun and much like the music of Lynyrd Skynyrd (both the 1970's and the 1990's-today), it makes me happy. It gives me energy.
So what keeps me coming back? Everything you do. What do I love about your music? Everything. There aren't the right words to explain it really. It harkens back to the first live DVD and the following quote that I transcribed and share countless times:
"We're not fucking around when it comes to music… That's what we eat, sleep and breathe for… And it's not about a cute haircut or a catchy tune. It's about music, you know, making music that makes you get goosebumps. You ever listen to just a part of a song that gives you goosebumps? Like a pedal steel solo or a sax solo or, you know… Wonder if a drum lick has ever given a goosebump? I'm sure it has Brit. Somebody being real, being honest with the music. It's, you know, not about how many billion copies of this we can sell because somebody's cute. It's about making something that sticks to your ribs musically. That's what Blackberry Smoke does."
That, Charlie, is why I love everything about Blackberry Smoke.
On another note about the new DVD, Charlie refers to drummer Brit Turner as "Mr. Blackberry Smoke" – the band's archivist and catalyst to them persevering all these years. I loved hearing that. When I latch on to something I like – such as music, science or history, I go into full on research mode and make a little time to acquire some knowledge about the topic. I like when people keep track of history, preserve it for the future and give the new generations a chance to look back on it and learn about it or from it. Again, yet another reason to love Blackberry Smoke.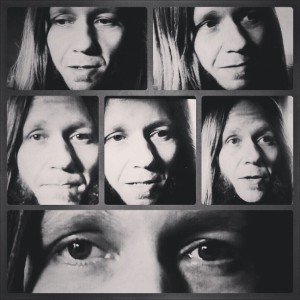 Side note: If I ever get to meet you in person, I probably would never be able to say all of this out loud. I am painfully shy at times, but I love music so much and learning about and listening to people talk about what they love about it. I love to hear stories from musicians about their experiences and just watch them do what they do.
Thank you – to Charlie, Brit and all the guys in Blackberry Smoke – for being real musicians, making real music and staying true to what you do. That is why I took to my blog to talk about your latest DVD and why I love Blackberry Smoke.
~ Christine