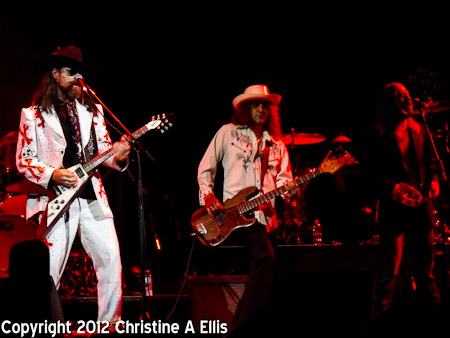 My introduction to Leroy Powell was ZZ Top's Gang of Outlaws tour with 3 Doors Down and Gretchen Wilson. When I arrived at the show, I didn't even know that he was on the bill. He opened the show in front of Gretchen Wilson.
His live show turned me on to his music. That's the way it should be in my book. The way he performs combined with the music he writes makes for that perfect combination live.
His style is eclectic, a little country and a lot of rock and roll. Rhapsody categorizes him under "new country" but categories are so limiting when Powell's music is so dynamic.
Here is Powell's discography (source: Rhapsody):
Here are my highlights from his catalog:
"You're Driving Me (Out of My Ever Loving Mind)" – http://www.rhapsody.com/artist/leroy-powell/album/life-and-death/track/youre-driving-me-out-of-my-ever-loving-mind
"Satan Put It On My Tab" – http://www.rhapsody.com/artist/leroy-powell/album/life-and-death/track/satan-put-it-on-my-tab
"You Can Count On Me" – http://www.rhapsody.com/artist/leroy-powell/album/atlantis/track/you-can-count-on-me
"Easy To Fall" – http://www.rhapsody.com/artist/leroy-powell/album/leroy-powell/track/easy-to-fall
Here are a couple of videos:
"You're Driving My (Out of My Ever Lovin' Mind)"
Here 's a live show clip:
You can find out more about Leroy Powell and links to his social media sites here –> http://lp.leroypowell.com/